TELUS Community Board members Sean Pihl and Al Tiller are seen presenting a cheque for $6,000 to the Okanagan Boys and Girls Clubs, a donation from the TELUS Thompson Okanagan Community Board.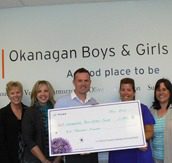 The funding is aimed at the organization's Youth Leadership and Empowerment program and will help to ensure that youth in the Okanagan have a chance to learn the skills, knowledge and values required to become future leaders and contributing members in their communities. The program will connect over 300 youth aged 10-16 from diverse cultural and social backgrounds throughout the Okanagan.
The information provided above is for educational purposes only. This information is not intended to replace the advice of a lawyer or address specific situations. Your personal situation should be discussed with a lawyer. If you have any questions or concerns, contact a legal professional.
[jetpack-related-posts]
---